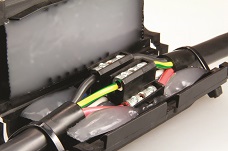 TransNet offers a comprehensive range of LV cable accessories from trusted brands like Raychem. From PowerGel filled joint enclosures to Raychem heatshrink joints and terminations and Tappat link pillars/boxes, we have all the low voltage cable accessories you'll need right here in one place.
Not all jobs are the same and for that reason, there are a number of different technologies available from cold cast and polyurethane resin to Raychem PowerGel, Heatshrink and Roll on cold applied products.

Designed and tested to meet the requirements of strict international standards, you can be sure these products are of the highest quality and offer excellent resistance to degradation.