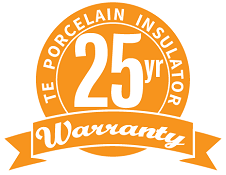 From LV shackle insulators right through to Station post insulators, our range is comprehensive and includes accessories such as pins and clamps. We have porcelain, polymer, and hybrid insulator variations, with a model for all applications in low, medium, and high voltage networks.

TE offer a 25year warranty on all their porcelain insulators. For more information about the warranty, please contact us.

You can download a copy of our latest insulator offering by clicking the image to the right.