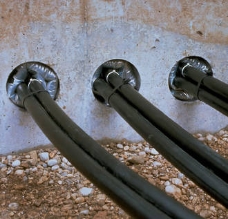 Unsealed cable pipes and ducts need not cause concern in panels, substation basements, cable vaults and access manholes. We have a complete range of products available to seal all cable entry points.
We have a specialist range of hazardous area glands and junction boxes from CCG Terminations for applications that require containment from the dangers of toxic gases in the event of an explosion.
In addition to the glands we have a number of duct sealing technologies, for both populated and unpopulated ducts. These products offer a watertight seal when used with plastic, steel or concrete ducting systems. This range includes Hauff Technik with a range of products for cable entry points.