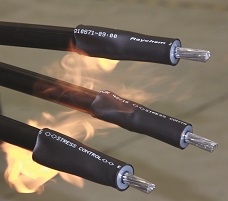 TE, manufacturers of the Raychem range of products offer a wide range of heatshrink tubing and moulded accessories to cover all applications and requirements. These products are of the highest quality and the broadest range, from thin walled to heavy walled sealant lined tubing and wrap around repair sleeves right through to cable end caps and breakout boots.

Raychem heatshrink products shrink to fit range of different sizes and types of cables. Made from cross-linked polyolefin, Raychem heatshrink products offer resistance to abrasion, weathering, and atmospheric pollution.
Whether it's an environmental seal, identification, mechanical strength or added insulation you need, there is a Raychem product available to suit.