THE FUTURE OF CLIMBING EQUIPMENT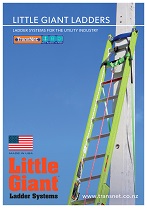 Little Giant® has taken the next step in climbing equipment safety by creating products engineered to protect you. We design specifically to account for human behavior. Your safety is our obsession. With more than 50 years of experience, Little Giant® continue to produce top quality industry leading ladders.

Having the right ladder for the job at hand is important. Little Giant® has a comprehensive range offering a solution for all applications.