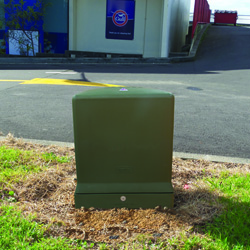 Built from UV stable heavy grade plastic, the ECOPillar will take the knocks and come back for more. It's designed specifically for customers who demand safety, performance and unobtrusive good looks from their electrical reticulation systems.

A unique range of fastening systems ensures protection from the less civic-minded elements of the public whilst giving the technician easy access. Internally, all components are specifically designed for the ECOPillar. Fully recyclable, we send damaged ECOPillars back to the plastic recycling agent here in East Tamaki where they're chipped up and reused. Talk to us about product end of life options.

Externally, ECOPillar visibly has a compact installation footprint. The corrosion free, environmentally friendly outer housing has a contoured design with no sharp edges, and can be ordered in a range of colours on request. This isn't just a plastic box with some electrical fittings inside - this is an integrated system, designed by people in the industry for people in the industry.

Click here for our latest product brochure.